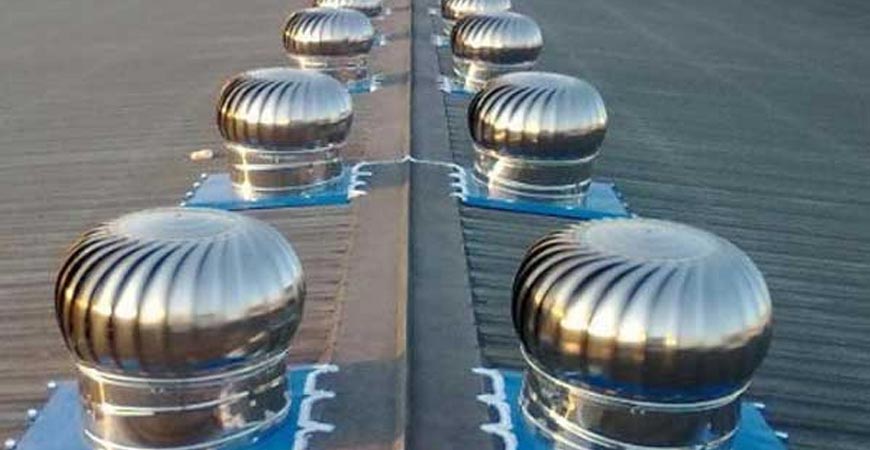 How Effective Are the Roof Top Ventilators?
The roof ventilator is an effective summer tool to keep your house cool, but you ought to consider a few crucial facts while installing it. The rooftop ventilators should be installed in appropriate sizes to pass the warm air out of the roof.
The bill will get reduced when the roof is properly ventilated.The rooftop ventilators are pretty much effective in controlling the temperature inside your home or industry as they keep your home from radiation.

How Do the Roof Top Ventilators Work?
In sharp contrast to cooling, the rooftop ventilators remain continually on and coax the warmth out of your rooftop. In case there is unreasonable dampness from the muggy air being caught in your roof space over the long run this might result in shape and green growth, which might actually begin influencing your wellbeing.
The frequency of Roof Ventilators you will need to place will rely upon your rooftop size. On a normal non-heated premise 1 ventilator per 250 sq. ft. will be adequate while investigating your rooftop we can exhort you concerning what will turn out best for your rooftop size.
Mukta Engineers offers Roof Top Ventilators worth the highest quality that you come across in the market. Their turbine ventilator driven by breeze is built from aluminum that is light in weight and has an exemplary plan and accompanies a guarantee all while turning without a hitch and unobtrusively. We can coordinate with your architect to design a Roof Ventilator system for your rooftop to guarantee performance and a consistent look of the building.

Benefits of Roof Ventilators
Beating the hot summer months gets easier when you make a small piece of investment with the roof ventilator.
• Frees the ceiling space from hot air
• No operational cost
• Installation cost is pretty low
• Extensive Warranty

The unique designs and patterns of Roof Ventilators enable them to blow the warm air out by utilizing the rotary motion of wind energy. Alongside sturdy construction, the ventilators are known for their resistance towards corrosion, lower maintenance, environment friendliness, energy conversion and cost effectiveness. The aero blades that are built-in enable deflection of dust and moisture. They have been designed in a specific manner so as to improve the overall aesthetic appeal and architecture of your building.